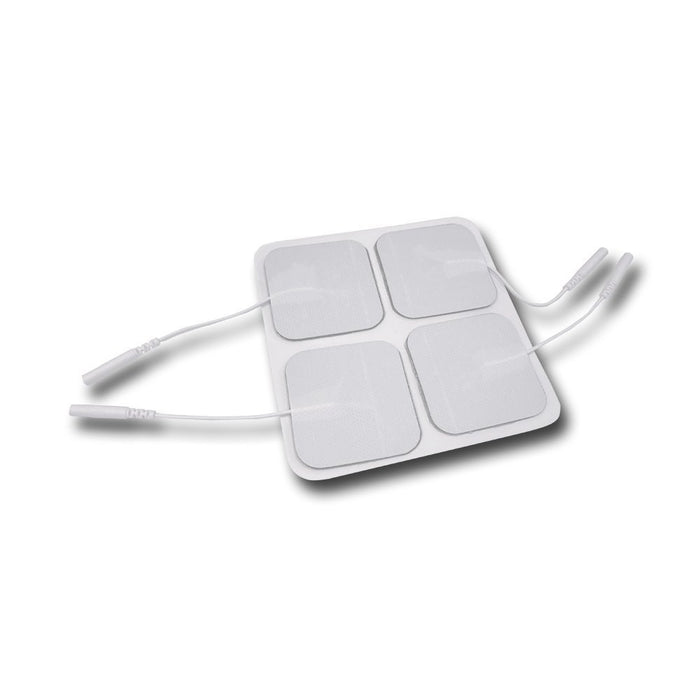 Tech Care Tens Unit Patches Pads Large 2 x 4 12 pieces small 2 x 4
TechCare Massagers Pigtail Tens Unit Patches - 30 Days Money Back Guaranteed

Main Features:

- FDA Cleared! [510(k) cleared]
- Self-adhesive and soft to the touch
- Non-skin irritant
- Thick gels, High quality pre-gelled electrodes patches
- Universal Compatibility
- Re-sealable seal packaging for longer storage life
- Flexible for maximum charge delivery and comfort
- 2.0 mm female connector that fits a 2.0 mm male connector
The Best Medical-Grade Quality Electrode Pads

TechCare Massager tens unit electrodes are top of the line replacement for all TENS, EMS, and IF Units using pigtail pin type connectors. Our TENS Electrodes use the highest quality gel available to ensure adhesiveness through multiple sessions. Whether you are replacing electrodes for physical therapy, electrotherapy, pain relief, or electronic muscle stimulation, nerve stimulations.

Warranty

All TechCare Massager products comes with 30 days money back guaranteed.


[PREMIUM QUALITY] FDA Cleared! [510(k) cleared] electrodes for TENS unit are reusable up 30-40 times with proper care & storage. Coated with long lasting reliable thick gel last longest.
[Great Size] Tens unit pads are 2" x 2"
[Package Quantity] 6 Pairs of Regular Size Tens unit patches and 6 Pairs of Large Size Tens unit Patches
[Universal Compatiblity] Our tens device patches are compatible with all TENS, EMS unit with pigtail pins type connectors available on Amazon If you own an EMPI unit machine, a rhythm touch electronic pulse massager to exercise your abs a TENS 7000 or 300
[Self-adhering] You do not need to apply any conductive gel adhesive or liquid to stick the electrode patches on your skin - This select feature of our self-adhesive electrode pads allows for the best deep penetration into the muscles for the nerve stim e